The Whitman Institute advances social, political, and economic equity by funding dialogue, relationship building, and inclusive leadership.

O

ur focus and approach have evolved since the organization

w

as founded in 1985,

but

our history provides important

context to who we are today.
A Preliminary from Co-Executive Director John Esterle
When I talk about The Whitman Institute's origins and history; my relationship with its founder, Fred Whitman; our trajectory since he passed away – people often say "you should tell that story."
For now, I'm just going to paint a general picture of how we got to where we are today. Because I have been so intimately involved in TWI's evolution, we decided I should write in my own voice.
In doing so, I've tried to be tactful and respectful in drawing back the curtain on some personal details; details that I think provide needed context for TWI's founding and development. In a field where both funders and grantees are incentivized to always "look good" we think it's important to be somewhat transparent about just how messy and complex an organization's story can be.
I begin with the genesis of my own professional interests.
Starting with an Episcopal youth group in high school where we regularly shared and explored our thoughts and feelings, I was drawn to the power of group process. Undergrad and graduate degree programs, followed by my work with a pilot nonprofit project, fueled my interests in small seminars, interdisciplinary thinking, and the role the media plays in shaping perceptions and viewpoints.
Consequently, when I came to The Whitman Institute in 1988, I knew I had found an institutional home, albeit one with self-described "morale problems."
TWI's Story: Leveraging Relationships, Dialogue and Equity for Social Good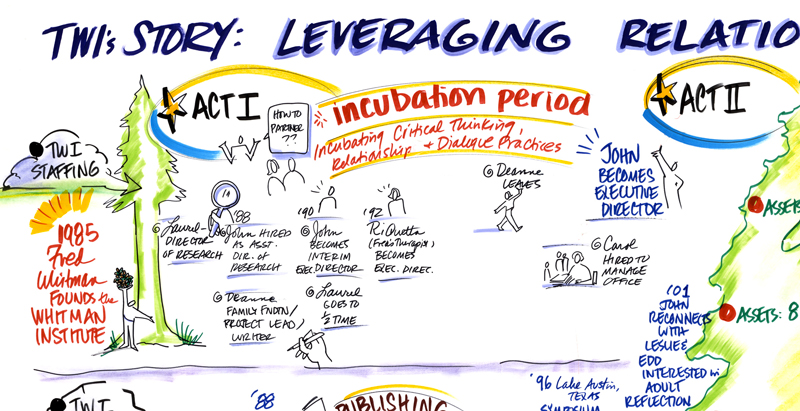 Act I
In 1985, at the age of 71, Mr. Whitman founded TWI as a small, operating foundation to explore how to help people improve their everyday problem solving and decision-making. His core question was how the interplay of thinking and feeling affects our choices, actions and relationships. What underpinned this question was a search for answers to come to terms with his own painful past; a past that included mental illness and suicides in his immediate family, as well as a lifetime of instances where he felt irrationality and closed-mindedness ruled the day (as is not uncommon, he was better at seeing those traits in others than in himself).
He recognized that his most personal questions were also enduring philosophical and psychological ones. He hoped that TWI could offer practical information and tools to the public, while adding its voice to those who advocate for the importance of teaching people how to think as opposed to what to think.
Fred had a sharp, roving mind and a knack for asking good questions. He was passionate about TWI and wanted it to be both serious and playful in carrying out its mission. How to find the right words to capture that paradox was something that proved elusive for him.
I always liked Fred's framework for TWI to "specialize in being generalists." That sentiment guided our initial work in producing literature reviews and program profiles on a range of topics. Fred's resistance to focusing on any one area, however, plus the lack of any real plan to broadly disseminate TWI's work, soon led staff and consultants to get discouraged about whether their work really mattered.
And that's the point where I enter the story, three years after TWI's founding.
ThinkAhead was the first project I took the lead on. It featured forums with a broad range of academics, business leaders, teachers, and writers who explored how to develop the kinds of thinkers needed to navigate a world of increasing complexity and rapid change. For a variety of reasons, the word "focus" was foreign to Fred's vocabulary, however, and once the project gained some momentum, he decreed we needed to go in a new direction. This became a familiar pattern with whatever we were working on.
Understandably, tension surrounded such shifts in direction. The dance between a founder who needed a lot of personal attention and made program decisions on a whim—and staff members who wanted autonomy to act in the world in a more sustained way—became a complicated, and ongoing one. Over time, I learned how to practice those steps skillfully, and in 1999, became TWI's executive director.
TWI's most successful projects were Family Foundations at Work, which looked at how family dynamics affect the decision-making and management of family foundations, and Conversations with Critical Thinkers, which invited leaders in the field of critical thinking to discuss their work and experiences. These projects brought home how challenging it is to think critically in times where it matters most, when our emotions, values and biases are in constant play—something TWI could well attest to.
In 2001, I initiated The Dialogue Project to explore how group dialogue that models curiosity, empathy and clear reasoning can help people build the skills and relationships to overcome that challenge. I contracted with a range of nonprofit organizations to learn how they were using dialogue processes in different aspects of their work. These collaborations confirmed we were moving in the right direction in terms of focus (dialogue) and approach (supporting and learning from a diverse set of nonprofits and their leaders).
In 2004, Fred passed away at the age of 90. He was a one-of-a kind character with many wonderful qualities: boundless curiosity; a quick sense of humor; a lack of pretense; and at times a surprisingly generous spirit. He also had other qualities that made him quite difficult to deal with. And while those parts of him made it challenging to maintain a close relationship with him, we remained close until the end.
One reason he came to trust me, I think, is because I never lost my sense of empathy for him and his personal struggles, including his struggle to find his own voice. He also knew that I genuinely shared his passion for TWI's mission. Though we had our share of "the emperor has no clothes" dynamics, we shared a real connection around that. And so, when he passed, he left me in the position to lead TWI.
From the time I started, I had a long-term vision that TWI could be a thoughtful, innovative, maybe even influential foundation—and that vision sustained me over the years when "the going got tough." In important ways, my tenure at TWI felt like a long incubation period of learning and reflection. Now, the time to blossom was at hand. It was liberating to feel that TWI could finally start to realize its long dormant potential—and to do so in way that remained loyal to Fred's best intentions and core questions.
Act II
Following Fred's death, I led a process of internal renewal at TWI. We rebuilt our board and Pia Infante joined me on staff in a part-time capacity. Though TWI had had a strong living donor and the accompanying feel of a small, family foundation, there were no family members on our board. In looking ahead, we saw that we were truly an independent foundation.
In 2005, TWI switched from an operating to a grant-making foundation for two primary reasons. First, giving grants to aligned nonprofits rather than hiring people to work on our own projects would better serve our mission of promoting dialogue. Second, I wanted TWI to contribute to a larger philanthropic conversation about what and how people fund and knew we could do this more effectively as a fellow grant-maker rather than as a stand alone, operating foundation.
Given our relatively small size, we decided to be a proactive grant-maker and not accept unsolicited proposals. Being well acquainted with some of the power dynamics that can come from working for a person of wealth, I also wanted TWI to minimize the hoops people had to jump through to receive funding. It made inherent sense to me that we give unrestricted grants and minimize paperwork.
I soon learned how much people appreciated and valued ongoing, general operating support, especially when it was coupled with an invitation to have more than a transactional relationship. I felt humbled and grateful that being a grant-maker enabled me to learn from and build relationships with such a range of talented, committed, inspirational people.
My initial grant recommendations reflected TWI's generalist perspective. From classrooms to prisons, neighborhood centers to rural retreats, film screenings to town halls, I was interested in where dialogue was being used with passion and purpose. Some of our early grantees had been part of The Dialogue Project. Others I read about and researched. As TWI's network of relationships grew, so did recommendations from others about possible connections.
Our early portfolio was weighted toward organizations working in education, civic engagement, and leadership development. As time went on, we became more attuned to community organizing, film, and journalism. Emerging trends in networks, human rights work, social movement building, and peer learning confirmed for us that the moment was ripe for our mission. One could infer from our grants portfolio that we didn't believe in process for the sake of process itself, but that most of our work was oriented to social/economic/political equity.
I also thought that having an eclectic portfolio of organizations held promise in terms of convening grantees to connect and cross-fertilize ideas and experiences. In April 2005, we brought our grantees together for a one-day gathering at TWI's office. Participants valued the experience, but gave us the feedback that if we wanted people to really get to know each other, we should hold a weekend retreat in the future. So, we did.
Our first retreat in 2007 brought together 30 leaders of grantee organizations, TWI board and staff to build connections and relationships. The feedback was very positive. One thing we couldn't help but observe was what a white, and generally older, group we were. We resolved to be more intentional about creating a more inclusive and diverse group going forward.
Since then we have held four more weekend gatherings, and we have been learning, growing, and becoming more diverse with each one. They have become a signature event of ours and have evolved to be a larger gathering of 100 that includes current and former grantees, other funders, leaders of affinity groups and kindred spirits. I always have to pinch myself at these gatherings for they are dramatic and heartfelt reminders to me of how far we have come as a foundation and how fortunate we are to be connected to such a wonderful community.
Over the past decade we have learned that our retreats, combined with our approach to grant-making, sets us apart from most foundations. This was brought home to us in a compelling way when we commissioned the Center for Effective Philanthropy to conduct a Grantee Perception Report for us in 2013.
The positive feedback we received from the GPR about how we make grants, the relationships we have with our grantees, and the support we provide beyond the check was deeply gratifying and affirming. We also took to heart a message that came through strongly from those we support: make the case within philanthropy for what and how we fund; tell our story and the stories of those we support in ways that help shift philanthropic practice.
Having made the decision to sunset TWI in 2022, we took that charge seriously and decided we needed more internal capacity to act on what we heard. Consequently, the board invited Pia, who had contributed to TWI in so many key ways in a part-time and contract role for 10 years, to join me as Co-Executive Director in July 2014. Knowing how well we work together and what a great a thought partner she is, I was thrilled when she said yes.
There were major transitions on our board as well in 2014, with two treasured, long-time trustees stepping down, and two exciting new members joining our team. These transitions, combined with the resolve to act on what we heard from our grantees, signaled to me the end of TWI's second act.
ACT III
Going forward, we realize our advocacy rests on the impact of the people and processes we are advocating for. So, how do we capture the impact of dialogue and relationships? How do we concretely convey the value of multi-year, unrestricted funding? How do we make a compelling case for trust-centered philanthropy without jettisoning measures of accountability and impact?
These are big and challenging questions. But by working interdependently and collaboratively with grantees and funder allies, and by taking creative risks, we are humbly confident that we can effectively address them before we sunset in 2022. In doing so, we hope to add our voice to those who are constructing a larger public narrative that how we treat each other, how we think and act together matters deeply if we are to build a more equitable world.