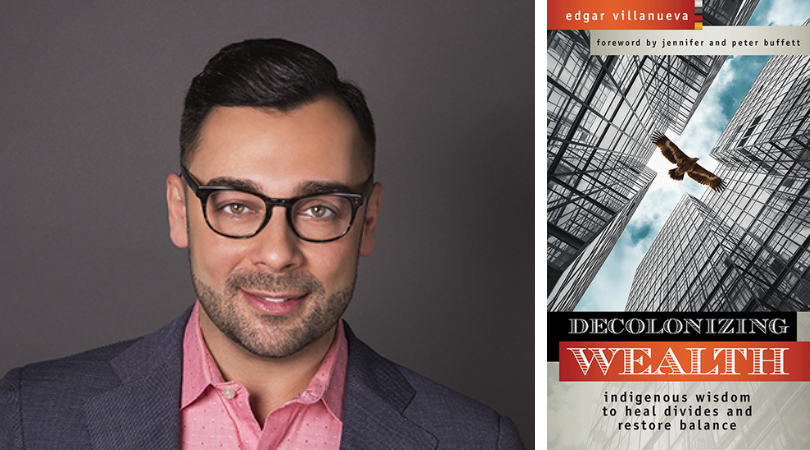 Interview with Edgar Villanueva: Decolonizing Wealth
In Decolonizing Wealth, Edgar Villanueva provides a refreshing perspective on the future of philanthropy and finance, pointing to Native wisdom as a way to dismantle the oppressive systems that permeate the sector today. With Edgar's book launch just around the corner, we sat down with him to hear more about his vision and how it connects to Trust-Based Philanthropy.
TWI: How does the issue of trust come up in your book?
EV: Broadly speaking, distrust underlies a lot of the status quo in philanthropy today. Grantmaking is not trusting of the community, and the community is not trusting of funders. There's obvious reason for that – from the historical and systemic trauma that marginalized communities have experienced as a result of wealth accumulation.
TWI: What is the role of funders in reversing that dominant narrative in philanthropy?
EV: It is important for us to help those who have power understand the harm that has been caused to communities [as a result of systemic injustice], acknowledge it, and, in some cases, even apologize for it. That is part of the goal of my book, and in the time I've been on the road talking about the book, it is clear it's already impacting people's perceptions.
For example, one of the early investors in the research for my book was a family foundation trustee who was on her own personal journey of coming to terms with her family's wealth. After hearing one of my talks, she did some research and learned that her family had owned slaves. She actually wrote me a letter several weeks after my talk, apologizing on behalf of her ancestors for what they did to exploit people of color in North Carolina in order to gain wealth. As a sense of this acknowledgment, grief, and apology, she has now moved beyond that to use her wealth to repair and restore and facilitate healing.
TWI: What are some key considerations for funders who want to facilitate healing?
EV: Funders have to be prepared that when they apologize, communities may need time before they can actually receive that apology. The healing has to happen within communities first. In my first job in philanthropy in North Carolina I called back home to my tribal community—a place where I had not lived for many years. I wanted to see if partnership could be built. Even though I was Native and from that community, I was shut down immediately. I tell that story to help funders see is that just because you have a check doesn't mean a community will be willing to talk to you. My own community was so traumatized that they saw me as someone who was coming to exploit them or take something away. I had to do my own work with my own community for years until they could see I was trying. That is how real the distrust is.
TWI: In your book, you refer to the "colonizer virus". What do you mean by this?
EV: A lot of our systems and institutions have been built upon a legacy of colonization and white supremacy that still permeates some of our systems and structures—even within well-intentioned organizations. This is the colonizer virus, and it really likes to show up in institutions like foundations that move money in a special way. To combat this virus, we need to build trust and acknowledge those symptoms in the work we do as funders, and begin to chip away at it when we see it showing up.
TWI: What advice do you have for funders who want to take steps toward decolonizing?
EV: It is important to listen to people who are living with the long-term impacts of colonization and white supremacy. And the best way to learn is to actually begin investing in those communities, and then the community can teach you. That is the first step.
Decolonizing Wealth will be released internationally on October 16th and is available for pre-order now at DecolonizingWealth.com. The Whitman Institute is co-hosting the book's Bay Area launch on October 24th, featuring a conversation with Edgar Villanueva and award-winning journalist Courtney E. Martin.