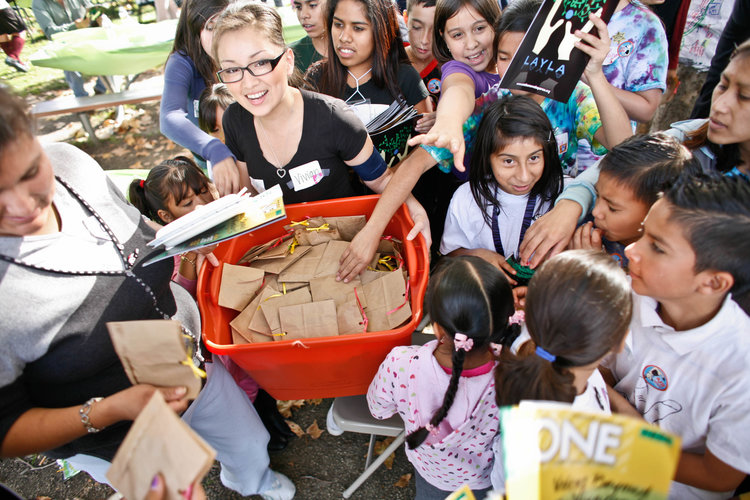 The Power of Reflection: The Story of On The Move
On The Move isn't your typical youth development agency. Since its founding in 2003, this multi-year grantee of The Whitman Institute has been continuously evolving its work to meet the emergent needs of young people across California.
In the last 15 years, On The Move has grown to a $7M organization that partners with local governments, school districts, and communities to build the next generation of leaders and lift the barriers that get in the way of the success of young people.
Amidst all this change and growth, two core practices have remained constant: a commitment to equity and a culture of reflection. For On The Move, equity is when people in the community who have been disenfranchised have an opportunity to be the ones running the show. As a result, the organization has dedicated its work to helping disenfranchised youth and families identify what they need to succeed, and then supporting them to build the skills and confidence they need to achieve that.
Reflection serves as the engine that allows the organization to refine, improve, and evolve its work. Because in order to keep doing great work, On The Move believes it is essential to pause and reflect on what's working, what's not, and consider how to move from good to great.
From Reflection to Action
On the Move started out as a spark of an idea, when the organization's co-founder Leslie Medine was running the Oakland-based youth mentorship organization Alternatives in Action. Leslie's vision was to support young leaders in developing academic, social, and emotional skills, with the understanding that the work had to be emergent and responsive.
"The main question running through my head," Leslie recalls, "Was 'how do we create novel experiences for teenagers to learn? And how are those experiences 'dramatic' enough that they continue to use what they've learned to make a difference in the world?"
In the spirit of reflection, Leslie implemented a four-year evaluation process to assess long-term impacts on program participants after moving on from Alternatives in Action. And she learned something very disturbing: there was a lack of ongoing coaching for young people in their 20s, thus limiting their potential for continued growth after high school. This was also driving young people away from public sector work.
With an aging boomer population and a dearth of fresh talent entering the social sector, Leslie saw a need for deliberate programming to bridge this gap.
"We wanted to raise up the next generation of public sector leaders that represent the diversity of the communities in which they live and work," recalls Leslie.
Considering where their work could be most impactful, Leslie and her co-founders set their focus on Napa, CA. Being in a rural community with very few opportunities outside of the agricultural industry, families in Napa were clamoring for this type of support system. And in 2003, On the Move was born.
Ripple Effects of Long-Term Investment
The Whitman Institute came on board as one of the first funders of On the Move, after having funded Leslie's earlier work at Alternatives in Action.
"It was the reflective process among staff that really struck me as a critical practice in the evolution of the work," recalls TWI Co-Executive Director John Esterle. "It not only fueled internal dialogue and trust, but it also helped Leslie and her colleagues identify what they needed to do next in order to advance their mission for youth development."
With the support of a handful of early funders, On The Move was able to build its leadership development programs for high school and college-aged students throughout Napa and surrounding counties. They started developing partnerships with local agencies and school districts.
Throughout, they never wavered on their commitment to internal reflection – instituting monthly reflection meetings among staff, youth participants, and community partners. They even invited TWI's John Esterle to be a facilitator for those monthly reflections, a role he still plays today. 
As On The Move continued to grow, and in keeping with its commitment to next-generation leadership, it became clear it was time to pass the baton to new leadership.
Similar to the long-term investment The Whitman Institute had made in On The Move, then Executive Director Leslie Medine had also made a long-term investment in her staff. Among them was Alissa Abdo, who had been with the organization for ten years.
Given Leslie's and Alissa's longstanding relationship, they were able ot work together to build a transition plan that both worked for them and the organization. And after nearly five years of reflection and preparation, in 2014 Leslie stepped down from her post, and Alissa Abdo was hired as the new Executive Director.
Bolstering New Leadership
"I always believed there was a way to balance scale and innovation," recalls Alissa Abdo. "As the need and demand for our work grew, I knew we had to focus on sustainability and building more complex infrastructure."
As a first-time executive director succeeding the organization's founding director, Alissa was both excited and apprehensive by the opportunities ahead. Fortunately, she had access to an incredible support system, with The Whitman Institute playing a particularly important role.
"The length of our relationship together has lent itself to a depth of understanding of our mission and values," Alissa explains, "And that has allowed Whitman to be alongside us as we've evolved."
Having an authentic partnership with her funder—one where she could be open and honest about everything going on—helped give Alissa the boost she needed to lead with confidence.
At a critical moment in the organization's life, Alissa points out how valuable it was to have a funder that understood the fundamentally personal nature of a leadership transition. As such, John reminded Alissa to utilize her own tools of reflection and critical thinking to assess that moment and build the confidence she needed to take the organization into the next chapter.
Breaking New Ground
In the five years since Alissa took the helm as Executive Director, On The Move has continued to evolve and expand, all the while strengthening its presence in Napa, surrounding counties, and throughout the state. She has built upon the organization's core values of equity-driven leadership and reflection, while broadening the organization's impact to thousands of families across the state – from youth-led community centers for foster youth, to family resource centers run by and for parents, to pathway-to-citizenship services (to name a few).
Alissa also expanded the organization's work into new territory: advocacy.
"We had always done some advocacy related to our individual programs, but there was a greater urgency after the 2016 presidential election," recalls Alissa. "We knew On The Move couldn't move the needle on our own, so why not tap into our amazing network of collaborators to push for bigger policy wins?"
Given On The Move's cross-section of partners across the region, they had a unique perspective on the intersections among different advocacy efforts.
With an initial $5,000 supplementary grant from The Whitman Institute, On the Move piloted an initiative to build a collaborative vision and action plan among communities, organizations, families, and advocacy groups in the region.
In this pilot stage, many issues rose to the top, especially the need for support and safety in the immigrant community, and increasing voter access among underrepresented residents. After successfully securing a proclamation in support of immigrants in Napa County, On The Move shifted its focus to voting access. They provided backbone support for the fund development, planning, and organizing of a county-wide effort that successfully increased the number of voters in 2018.
With a commitment to maintain that momentum and continue to tackle important issues in the region, the pilot initiative was able to secure additional funding to sustain that work for two more years, under the auspices of one of the coalition partners.
For Alissa, all of the work, regardless of programmatic focus, always comes back to the practices of equity-driven leadership and a culture of reflection.
"We're not developing people for the sake of developing their leadership," Alissa points out. "We're doing it because there are big issues around equity in the communities we are working in, and we're going to need a lot of bandwidth to tackle them. When we choose to scale or add a new program [at On the Move], we're doing it because we want to better equip the next generation to identify inequity, find the tools to reflect on it and undo it, and ultimately build a more equitable future for all."
For more information about On The Move, visit www.onthemovebayarea.org.