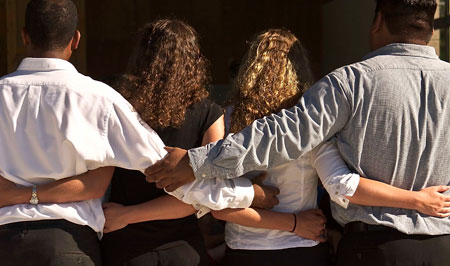 Inter-generational Leadership Development For Those Who Need It
As an intergenerational leadership organization, On the Move modeled their practice internally in a significant way when they hired Alissa Gentille, who started out in one of their young emerging leaders programs, as their current Executive Director. This goal is clearly reflected in their mission: "On The Move develops young people as leaders by building exceptional programs that challenge inequities in their communities." With a focus on developing young leaders and servicing youth who are aging out of the foster-care system and apart of the communities being affected by systemic inequity, On The Move provides  leadership development for those who need it.
The first program On The Move started in Napa was Voices: a community center for transitioning foster youth led by emancipated foster youth. Voices, is primarily a place for young people who are aging out of the foster-care system and do not have a lot of support from adults. Voices provides a safe space for them to be themselves, develop their leadership skills, and engage in both peer-based and intergenerational dialogue.  The Voices model has now been replicated in Sonoma and Monterey counties as well.
As On The Move became clear about the region they wanted to serve, Napa County, and the population they wanted to work with, they developed other major initiatives in response to community inequities in areas such as education, mental health, and LGBTQ awareness and inclusion Through these programs, On The Move develops leaders through a place-based approach that emphasizes shared work, strong relationships and co-creation.
A key part of OTM's model focuses on fostering interdependent-partnerships instead of collaborations that are really just "parallel play." This approach means putting relationship-building at the center of all their work to promote youth empowerment and community inclusion. Through these partnerships OTM provides youth both opportunities for their voices to be heard and opportunities for them to work for change. Youth know the system they are a part of is broken and they should have a say in how it is fixed.  By creating paths for them to do so, OTM shows how integral young people are to the health of their communities.
It is also important to mention how crucial co-generational leadership is to OTM's model of social change. They believe in intergenerational co-creation and shared decision-making. They practice equal partnerships in all they do. OTM understands that dialogue between generations and working relationships across generations is how you create a truly integrated and inclusive community where members learn from each other and move forward together.
Before Alissa became the sole executive director she had a co-leadership position with Leslie Medine, the founder and former executive director of OTM. Once Leslie decided to transition out of the executive director position and Alissa agreed to transition in, they went through a period of being co-executive directors where they learned from each other's experiences and leadership styles. This process helped prepare Alissa for the task that she has now so gracefully taken on and enabled Leslie to step into a new role serving the organization as a Senior Fellow. The way they have transitioned into their new roles  epitomizes OTM's initial mission to close the leadership gap between baby boomers and Gen Xers; one they are  now continuing and expanding through their work with millennials.
On The Move's holistic, intergenerational approach to developing leaders and serving underserved populations charts the way for how communities can advance equity and build sustainable leadership. TWI is proud to have supported them since their inception.