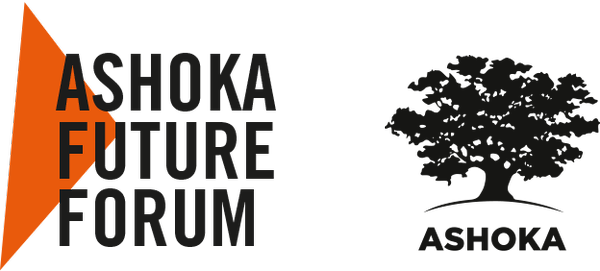 Changemakers & funders unite, share ideas at Ashoka Future Forum
How can we re-imagine a brighter future through social enterprise? This question was at the heart of the recent Ashoka Future Forum, which attracted about 400 social entrepreneurs from around the world.
Many of the sessions focused on cultivating mindfulness, trust, and empathy, and offered ideas about what the future could look like with more changemakers at the helm.
Speakers, including Ashoka CEO and Founder Bill Drayton, talked about the importance of creating an "everyone is a changemaker" world — beginning with children. Sometimes, we spend so much time priming children for the future that we neglect to realize their potential in the present moment. The teenage speakers at the forum proved that, when given support, young people can create innovative solutions to social problems.
I got to know some of the teenagers and found myself wanting more time with everyone I met. As a first-timer, I came away with a newfound appreciation for the number of people who have dedicated their life's work to combating homelessness, racial inequality, illiteracy, gun violence, and more. I came away with a notebook full of ideas and quotes. Here are a few that resonated with me:
"An 'everyones a changemaker' world is possible when stakeholders collaborate and promote the four core skills of changemaking: empathy, teamwork, leadership and changemaking."
"Movements need stories, leaders who embody those stories and invitations for people to join."
"Rather than youth doing amazing work despite being young, think of them as doing what they do BECAUSE they are young."
"Strategy is the art and science of creating lasting change in a world of chaos and uncertainty."
"Partnerships move at the speed of trust."

"The greatest skill is the ability to learn new skills. It starts with belief in creativity."

"'Can I do it? Is it worth it?' Two questions to ask when driving social change."
I was especially drawn to the sessions about storytelling and media, as well as one about the relationship between funders and grantees. Titled "If These Walls Could Talk," the session addressed questions that I found especially relevant as a nonprofit leader: How can foundations and nonprofits be transparent about the constraints they face? And how can they establish a "trust-based investing" practice that allows for closed feedback loops, authentic conversations, and accountability for social impact?
Too often, there's a wall between funders and prospective grantees. Questions about impact sometimes create unnecessary barriers, making grantees feel as though they're in an endless pursuit of measurable outcomes.
Quantitative impact is often easier to measure than qualitative impact, especially when it comes to the impact of storytelling. How do you determine if a story has had an impact? If it goes viral? If it spurs online engagement? If it leads to greater awareness? How do you account for the people who were touched by a story and made a small action because of it but never made that action known? As the leader of a media-related nonprofit – Images & Voies of Hope (ivoh) — I think about these questions a lot.

I couldn't help but think of them while listening to the panelists – The Rita Allen Foundation's Elizabeth Christopherson; Feedback Labs' Dennis Whittle; First Book's Kyle Zimmer; and The Whitman Institute's own Pia Infante.
Christopherson talked about the Rita Allen Foundation's admirable aim of investing in transformative ideas in their earliest stages. Infante addressed The Whitman Institute's approach to funding and its focus on dialogue and equity. She also explained that there's a level of trust between grantees and The Whitman Institute; grantees aren't required to submit quarterly reports, and they receive general operating funds to start new initiatives, grow their organizations, and more.
As a Whitman Institute grantee, ivoh has come to appreciate TWI's approach to funding. TWI holds a retreat every other year to give grantees time to reflect, engage in dialogue, and build relationships. Along with being compassionate leaders, Infante and co-executive director John Esterle are incredibly generous with their time. Esterle is on ivoh's board of trustees and is readily available to share ideas and advice. The relationship that we have with TWI isn't a transactional one; it's a transformational one.
I shared these thoughts during the Q&A portion of the panel and was later on approached by other attendees who said they deeply appreciate foundations that invest in new ideas and support smaller nonprofits that need overhead funds.   
Their reactions reminded me of an excerpt from Dan Pallotta's famous TED talk:
"Our generation does not want its epitaph to read, 'We kept charity overhead low.' We want it to read that we changed the world, and that part of the way we did that was by changing the way we think about these things. So the next time you're looking at a charity, don't ask about the rate of their overhead. Ask about the scale of their dreams, their Apple-, Google-, Amazon-scale dreams, how they measure their progress toward those dreams, and what resources they need to make them come true regardless of what the overhead is. Who cares what the overhead is if these problems are actually getting solved? If we can have that kind of generosity, a generosity of thought, then the nonprofit sector can play a massive role in changing the world for all those citizens most desperately in need of it to change."
At the Ashoka Future Forum, it was clear there are so many people with big-scale dreams who are working to effect positive change. By creating a world of changemakers who are supported by foundations and donors alike, we can collectively carve out a better – and far brighter – future.