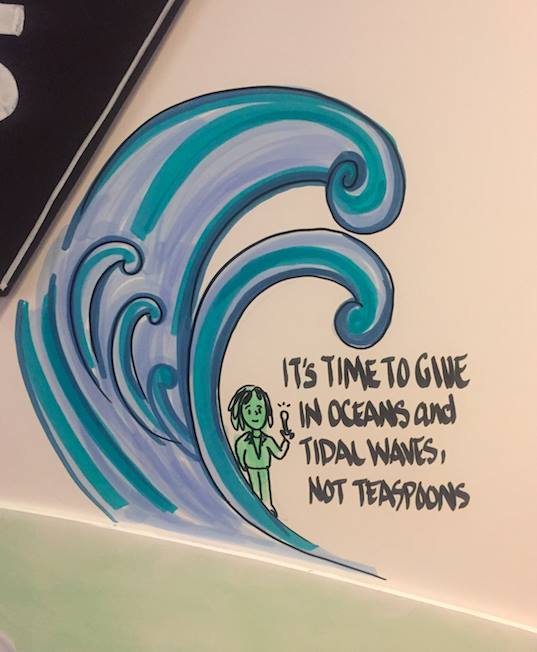 From Uncomfortable Truths to Courageous Action
Note: This post originally appeared on Social Velocity.
The 2018 GEO National Conference came to a close today, and 950 of us headed back to our respective cities, families, teams, and desks with fresh connections, conversations, and challenges to integrate back into our daily lives.  I'll admit that there are times when I come home from a conference and go right back to business without much thought. This is not one of those times.
Kudos to the 2018 GEO Conference Planning Committee and Staff for weaving together an explicit focus on racial equity with thought provoking content and design.  GEO's focus and commitment to racial equity could be felt and seen in multiple dimensions – from the big questions being posed on the big stage, to the content found in many of the breakout sessions and auxiliary events, to the lineup of plenary presenters.  No two plenaries were alike, except in the distinct choice to elevate the leadership of women and people of color.
On Monday, I was struck by the number of times — in both plenary and breakout sessions — that uncomfortable truths emerged about philanthropy's complicity in maintaining structural and economic racism.  Many speakers pointed out that despite the philanthropic and the nonprofit sectors, inequities for black and brown communities continue to rise at every marker — wealth, housing, education, incarceration, technology.  Judy Belk kicked off a first uncomfortable truth by asking us not to look away from the signs of distress evidenced by unresolved homelessness and displacement on the picturesque streets of the San Francisco Bay Area. Another tough pill to swallow rang out during Brian Barnes' opening comments:  
"Our commitment to enacting equity and justice is valid solely and only to the point that it does not tamper with the safety and security we have for our families, ourselves, and our professional roles.  In other words, at the very point that our sincere belief in the morality and value of our efforts actually begins to threaten our reputation, our resources, or our relationships, almost all of us with abandon ship."
On Tuesday, among a number of uncomfortable truths that Nikole Hannah-Jones delivered, was the failure of funder-driven education reforms in making her case that separate but equal is deeply unequal — and that integrating schools is the only way to ensure that black and brown students are guaranteed a quality education.  Nikole noted dryly that philanthropy "cares about data-driven results until it points to an uncomfortable result [action], then we're looking for the find the next best data-driven result."  This observation of the way our sector may simply pick and choose self-reinforcing data was not lost on me, especially when so many efforts to solicit and act on feedback seem to be embraced more widely of late.  It brings up the question: Who's feedback are we listening to?  Whose data informs our strategies and decisions?
On Wednesday, Fred Blackwell seemed to speak directly to this saying "I'm a believer in results, a believer in using data to drive strategy and decision making.  But [if you are] using data that isn't disaggregated by race, I don't know how you are setting strategy, don't know how you are responding, don't know how you are measuring impact."  In that same conversation, Christina Livingston posed a question,
"What can funders really do differently to hear from communities – what are tangible practices and mechanisms that not only provide information but substantively form strategy?"  
While on the surface, this is not a question that appears to make our sector uncomfortable (because we embrace feedback loops, right?), the discomfort may come when community and nonprofit partners challenge us to take actions that fall outside our comfort zones.  
In that vein, I've been taking note — from The Whitman Institute's stellar network of partners and from the powerful sessions and speakers at the GEO conference the past few days — of concrete ways that we can move from uncomfortable truths to courageous action.  It's not rocket science, but for those of us inspired to continue to move our institutions in these plays will require us to lean into vulnerability, collaboration, and courage.
Pass the (Decision and Strategy Making) Ball to Community

:  Instead of trying to get a slam dunk based on our own top-down strategies, what if we passed some of that strategy- and decision-making to community leadership who have direct experience with the issues we seek to address? We've heard in various forms that we need to be a sector that listens more closely and becomes willing to follow the direction and recommendations of communities bearing the brunt of generations old structural inequities.

Change the Lineup:  

I wasn't intending these recommendations to be totally referential to basketball, but it

is

playoff season.  While we can and should strive to educate those in power about racial (in)equities, we will not achieve true equity until we diversify the lineup of who sits at the decision-making table.  Remember the graph that Kathy Reich showed us that in philanthropy: 89% of chief executive identified themselves as white, 85% of board members identified themselves as white, and 40% of foundation boards identified themselves as entirely white.  Given that the inequities of our time (economic, environmental, social, political, technological) all fall disproportionately on black and brown communities, our rosters should show a drastically different executive and board makeup by 2038.

Change Up the Plays:  

The breakfast panel on affordable housing noted that a half million dollar investment in a policy and advocacy strategy resulted in the passing of a measure that would go on to produce 2 billion dollars of new affordable housing.  If we haven't considered the role of advocacy when funding for complex social change and social benefit, perhaps it's time we did. If we have only looked at single issues with singular solutions, it might be time to study up on how interrelated our one issue is to many others.

Let Go of Habitual Structures of Distrust:  

If we really examine our funding protocols, we may find they are based on the premise that we should be inherently suspicious of nonprofits and communities, and that they need to prove their trustworthiness before we enter into relationship with them.  By adopting a

trust-based approach

— which includes rigorous listening, inquiry, relationship building, and thorough research as due diligence — we can reverse this distrustful paradigm while saving tons of time and trouble.  Before that long climb to the top of our inbox, let us reflect and revisit the underlying values and premises of our grantmaking structures and be willing permanently bench those habits that don't align with our values and missions.

Play the Long Game:  

In terms of relationship and resources, we hear repeatedly that philanthropy's fickleness and attention deficit disorder wreaks havoc on the health and sustainability of our nonprofit partners and communities they serve.  While we still talk on plenaries and read in GEO reports that multi-year, unrestricted, flexible funding is ideal — the actual practice is still relatively rare in the sector. Why? We

know

better, when shall we comprehensively and collectively

do

better?  

Put Resources, Reputation, and Relationship on the Line for Equity:  

A handful of the uncomfortable truths that we heard on the big stage and in many sessions is that philanthropy is too self-preserving.  What would it look like to take more personal and institutional risks in order to address inequities? Perhaps it means having tough conversations with our boards. Perhaps it means taking a long reflective look at our own self preserving mechanisms and see if it is time to step aside and share power.  Perhaps it means getting more proximate to those experiencing the problems of poverty, criminalization, deportation, homelessness — and being in the uncomfortable position of outsider in a room full of those who do not benefit from our privileges. Perhaps it means getting out from behind our bureaucratic processes and having direct conversations about money and time commitment.  Whatever it looks like, I hope we are each willing to take some kind of vulnerable action in this direction.

Pass the Wealth, Too:  

Lastly, I do wonder what it would look like to put ourselves out of business as a sector in 20 years?  Often we hear from communities who have suffered from structural racism like redlining and upon whose lands and backs the wealth in this country has been built — that the ultimate goal is self determination.  As a sector, what would it look like to transfer self-generating and wealth-building mechanisms to our communities? This could look like resourcing long term reserves, providing land trusts, providing loan signatories, funding capital campaigns, or endowing community led organizations.  Many of us fear building a dependency on our grant dollars, so if we are brave and willing to risk our own comforts, it may make the most sense to figure out how to

invest our endowments in ways that ensure self sufficiency for those to whom we should be most accountable — the intended beneficiaries of our organizational missions.
In closing, it seems appropriate to close with the uncomfortable truth that Janine Lee, a co-founder of GEO, lifted up as we began these three days of celebrating GEO's last 20 years and visioning philanthropy 20 years into the future … "Philanthropy is commendable, but it must not cause the philanthropist to overlook the circumstances of economic injustice which make philanthropy necessary." – Martin Luther King.