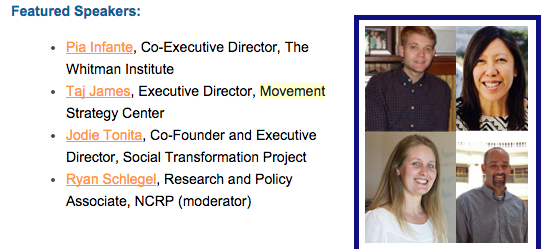 Join Us for NCRP's Cultivating Leadership Webinar (Featuring Pia Infante)
From NCRP:
Social change isn't possible without effective leaders on the ground dedicated to the hard work of changing hearts and minds. Without support, even the most passionate changemakers are at risk of burning out, a great blow to the movements they lead. While embraced by some foundations and progressive organizations, new research from NCRP shows that leadership development received less than 1 percent of total grants from the largest U.S. foundations.

On Monday, March 23 from 12:30-1:30pm ET, join Pia Infante, co-executive director of The Whitman Institute, Taj James, executive director of the Movement Strategy Center and Jodie Tonita, co-founder and executive director of the Social Transformation Project, in discussing the transformative power of leadership development in light of NCRP's recently released report, "Cultivating NonprofitLeadership: A (Missed?) Philanthropic Opportunity."
Register here!