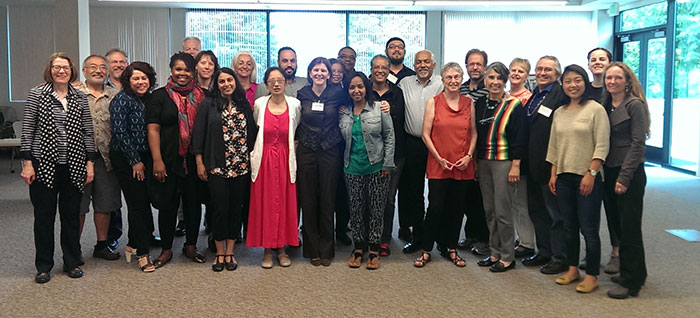 Getting To Community Democracy
This article was originally published on June 12, 2015 on the Philanthropy NorthWest site. We want to highlight the convening Community Democracy held and uplift the work they are doing.
---
 Sindhu Knotz, Partner, The Giving Practice
Last week, Community Democracy Workshop partnered with The Ford Family Foundation to host a peer learning exchange among funders and practitioners of place-based community change efforts from several cities across the U.S, including Denver, Buffalo, San Diego, Boston, Little Rock and New Orleans.
Community Democracy Workshop, a project of Philanthropy Northwest led by Peter Pennekamp and Garland Yates, seeks to advance the practice and institutional support for "community democracy"— a process where communities themselves have the capacity and power to take responsibility for the change they want. Inspired by the beautiful surroundings of The Ford Family Foundation campus in Roseburg, Oregon, the group explored several themes, including:
How to encourage the authentic engagement of residents in community change efforts, particularly when gatekeepers- such as funding institutions, nonprofits or other sponsoring organizations- often assume leadership roles and may crowd out the voices of residents most impacted by change initiatives.
Ways that funders and other sponsoring institutions can give communities the time to build capacity and plan for change, rather than focusing on measurable results and designing programs that aren't sustainable in the long run.
Ensuring that small grassroots organizations are able to participate in community change initiatives in meaningful ways, and mitigating the dynamic where funding is allocated primarily to more established, larger institutions that are not as deeply embedded in community.
A discussion on the role of Community Democracy Workshop in supporting practitioners with tools, resources and a space to strengthen their own work through learning and sharing with others around the country.
Over the course of two days, the group discussed and debated these themes, with both shared opinions and at times, a healthy tension in the room. For example, we addressed the role that funding institutions could play in supporting community initiatives that are co-owned and led by the community. In a small group I participated in, several important practices for funders surfaced:
Taking the time to build trust and waiting until you are invited into the community.
Being flexible and open to your role in the process and working through this with representatives from the community.
Asking questions, practicing humility and listening.
Finding indicators that reflect alignment with this approach, such as process indicators that assess levels of community capacity as demonstrated by specific characteristics or attributes of the community.
We acknowledged that all of these practices require a certain set of skills and leadership at funding organizations such as patience, flexibility and openness to risk. Funders may need to have uncomfortable conversations with their boards to generate greater ownership of outcomes at the board level. And of course, this approach is not right for every funder, but our group agreed these approaches have the potential to create greater community impact than more traditional models of funding.
Community Democracy Workshop looks forward to continuing this conversation, and others, around how to build the philanthropic sector's support for and practice of community democracy. A huge thank you to Ann Kubisch from The Ford Family Foundation for sponsoring this event and to Philanthropy Northwest members David Bley (Bill & Melinda Gates Foundation), Luz Vega-Marquis (Marguerite Casey Foundation) and Henry Izumizaki (The Russell Family Foundation) for their participation.
Related Organizations: 
The Ford Family Foundation
The Russell Family Foundation
Bill & Melinda Gates Foundation
Marguerite Casey Foundation